TYPHOON - The First Strike
Availability: In stock
Quick Overview
Eurofighter TYPHOON, OPERATION SHADER
Details
Michael Rondot's OPERATION SHADER painting depicts a pair of Eurofighter Typhoons armed with Paveway IV 500lb precision-guided bombs, Litening III laser targeting and reconnaissance pods, and AIM-120 AMRAAM and AIM-132 ASRAAM air-to-air missiles. In the background, smoke drifts away from a strike on a target within the Omar oilfields complex. The painting represents all Typhoon units involved in Opertion Shader.
The first operational missions flown by Royal Air Force Typhoon Tranche 2 aircraft were in support of Operation SHADER, the UK's military contribution to the fight against Daesh in Iraq and Syria. In December 2015 Typhoon aircraft, with engineering and ground support, deployed to RAF Akrotiri, Cyprus, and immediately commenced Air Interdiction and Close Air Support missions, striking the Omar Oilfield with Paveway IV weapons on 4 December. Since that first strike, Royal Air Force Typhoons have been in action on a regular basis, striking targets with precision-guided weapons by day and by night.
Only a few prints from this edition of 300 signed and numbered copies are available to collectors, with most of the edition assigned to an operational Typhoon Squadron.
For something really special, a remarque pencil drawing of a Typhoon and any squadron badge can be added to your print. <> Please enter any special requests when ordering or call us to discuss your individual print order.
The edition is limited to 300 signed and numbered copies, with Artist's Proofs and Remarque prints within the edition, and 20 canvas prints.
Signatures:
Four Operation SHADER Typhoon pilots.
Prices
Signed and numbered: £75.00
Artist's Proof with a squadron badge drawing on the print border: £120.00
Remarque copies have a detailed drawing of a Typhoon with a squadron badge added to the print border: £235.00
Double remarque copies have two detailed drawings of Typhoons with squadron badges added to the print border: £300.00
Canvas prints replicate the look and feel of the original oil painting. The image size is 30x20 inches: £300.00
Framing service available: £85.00.
Order with a brown or distressed silver frame (see photos above). Framing includes a cream black-core mount, glass and hanging fittings.
Framed prints are shipped in a carton and arrive ready to be displayed. Please call us for framing options for canvas prints.
Remarque Examples: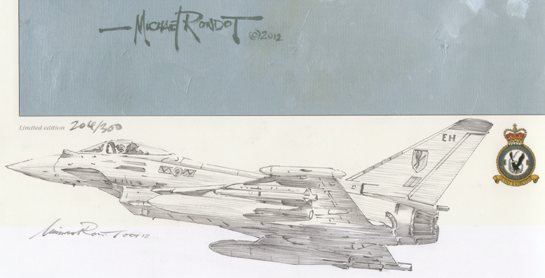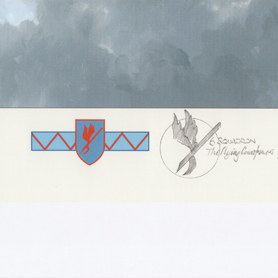 You may also be interested in the following product(s)