About Michael Rondot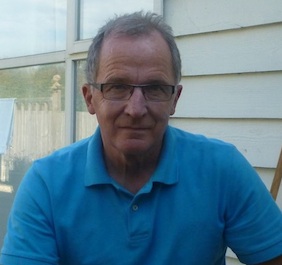 Michael Rondot was born in Ontario, Canada but has lived in the UK since the mid-1950s. His surname is French-Canadian, hence the "silent T", pronounced like "Rondeau". Growing up as a young man during the so-called Golden Age of British aviation, he developed a lifelong interest in military aircraft that led eventually to his 25-year career as a reconaissance and ground-attack pilot in the Royal Air Force.
He is best known in aviation circles as a Jaguar pilot but also flew the Canberra PR9 and Hawker Hunter before joining his first Jaguar squadron in 1980. He flew combat operations in Jaguar fighter-bombers during the first Gulf War in 1991 and has published several articles and reviews about his experiences with the Jaguar since retiring from the Royal Air Force in 1992.
He was a founder associate member of the Guild of Aviation Artists in 1971 and has been painting professionally for over 40 years, publishing his first limited edition print of a Hawker Hunter FGA9 in 1980.
He is now one of the most popular and widely collected aviation artists, with paintings and prints in private, royal and corporate collections in many countries. In 2002, his painting "The Marham Wing over Sandringham" was presented to Her Majesty Queen Elizabeth II to celebrate the occasion of her Golden Jubilee.
Michael's work encompasses every type of aircraft from modern combat jets to World War II aircraft, airliners and helicopters, and also includes unlikely subjects such as armoured fighting vehicles and trucks.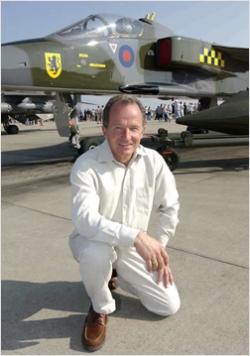 The artist with Jaguar S2 XX109 in 2005. He flew this aircraft from Warton to Coltishall on its final flight. It is now part of the Norwich Aviation Museum.
Above all, he is widely acclaimed for producing powerful and atmospheric images of aircraft in the wet-weather conditions that prevail in Northwest Europe. The wet runway scenes that feature in many of his early works have given way to a more subtle view of the kind of weather he flew in for much of his flying career but there remains a strong leaning towards impressive stormclouds and threatening weather.
His work has often been described by enthusiasts in the world of aviation as the most technically accurate and visually stunning of recent times.
Click here to download PDF versions of his work.
To all of you, from all of us at Collectair.co.uk - Thank you.
Michael Rondot
Aviation Artist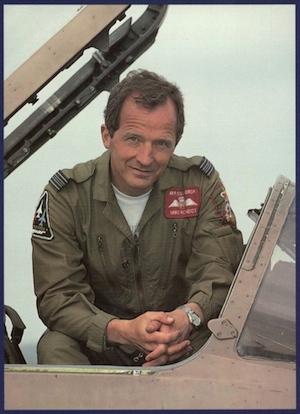 Michael Rondot in the cockpit of a Gulf War Jaguar.
| | | | | |
| --- | --- | --- | --- | --- |
| | | | | |
| Mike Rondot with HM King Abdullah II of Jordan, HRH Prince Feisal and Wg Cdr Mike Seares at the presentation of "Broken Silence" | | HM King Abdullah II signing a few of the "Broken Silence" prints at No 6 Squadron RAF Coltishall | | The artist in the cockpit of Jaguar XZ375 at Al-Muharraq, Bahrain with a copy of The Guardian newspaper during the Great Gulf War, 1991. |
Mike Rondot with two fellow students at RAF Valley 1969




The artist meets Her Majesty The Queen during the unveiling of 'The Marham Wing Over Sandringham'. The original painting is now in Her Majesty's private collection




In the cockpit of a 41 Squadron Jaguar in 1985 (left), and with XZ375 at RAF Coltishall in 1992 (right).




XZ375 was dubbed "The Avid Guardian Reader", a reference to a well-wisher during the Gulf War and a joke at the expense of a group of hand-wringing journalists.