The Red Arrows
Availability: In stock
Quick Overview
The Royal Air Force Aerobatic Team, The Red Arrows. Multi-signed print. 24 SIGNATURES
Details
The Royal Air Force Aerobatic Team, The Red Arrows.
Signed by RED 1-10 and by 14 legacy RAF Aerobatic Teams pilots. 24 SIGNATURES
Renowned throughout the world for their dynamic precision displays flying nine brilliant red jets, the Royal Air Force Aerobatic Team, The Red Arrows, showcase the Royal Air Force and represent the nation both in the UK and overseas. Formed in 1965 with Folland Gnat aircraft before switching to their familiar bright red BAe Hawks in 1979, The Red Arrows celebrated their 50th display season in 2014.
This fine art print is signed and numbered by the artist and by the 2014 50th display season Red Arrows and 14 pilots from RAF Legacy
Aerobatic Teams spanning the years 1956 - 2014.
For more information and images visit our facebook page and click "LIKE" at the top of the page.
150 Artist's proof and remarque prints with 24 signatures.
Signatures:
Red 1 Squadron Leader JIM TURNER
Red 2 Flight Lieutenant STEW CAMPBELL
Red 3 Flight Lieutenant JOE HOURSTON
Red 4 Flight Lieutenant OLLY PARR
Red 5 Flight Lieutenant STEVE MORRIS
Red 6 Flight Lieutenant JAMES MCMILLAN
Red 7 ;Flight Lieutenant MARK LAWSON
Red 8 Flight Lieutenant MARTIN PERT
Red 9 Flight Lieutenant MIKE CHILD
Red 10 Squadron Leader MIKE LING


Air Commodore ROGER TOPP AFC** Leader of The Black Arrows 1956 - 1958
Squadron Leader HENRY PRINCE Yellowjacks and Red Arrows founder 1965
Flight Lieutenant TONY ALDRIDGE Black Arrows and Blue Diamonds
Squadron Leader TERRY LLOYD Leader of The Red Pelicans 1964-1965
Wing Commander DOUGIE MARR Red Arrows 1970 - 1971
Flight Lieutenant DEREK BELL Red Arrows 1966 - 1968
Wing Commander DICK STORER Red Arrows Team Manager 1965 - 1966
Squadron Leader ROY BOOTH Red Arrows 1966 - 1968
Wing Commander JACK RUST Red Arrows 1969 - 1970
Squadron Leader IAN SMITH Red Arrows 1997 - 1999
Squadron Leader DOM RILEY Red Arrows 1988 - 1989
Squadron Leader JEFF GLOVER Red Arrows 1988 - 1989
Group Captain BRIAN HOSKINS Leader of The Red Arrows 1979 - 1981
Wing Commander ADE THURLEY Leader of The Red Arrows 1991 - 1993
Prices
Artist's Proof: £150.00
Remarque prints can be ordered with a detailed drawing on the print border in addition to a squadron badge or logo. Each drawing is unique, adding a personal touch and, of course, enhancing the value of your print. £235.00
Double remarque print with two detailed drawings on the print border: £300.00
Canvas prints are individually printed onto canvas under the artist's supervision to ensure fidelity to the original painting. They are signed by the artist, and for convenience, are dispatched rolled in a large diameter tube ready to be mounted on a stretcher frame. On request, canvas prints can be mounted on an exhibition quality stretcher frame and finished with a textured brushmark surface to give the look and feel of an original ready to put into a frame of your choice.
Image size is approximately 20 x 30 inches but other sizes are available on request. £300.00
Please use the CONTACT US tab on the menu bar to specify your requirements for squadron badges, remarque drawings or canvas prints.
Framing service available: £85.00.
This print can be ordered with a brown wood or distressed silver frame. Framing includes a cream black-core mount and glass.
Framed prints are shipped in a carton and arrive ready to be displayed.
Canvas print Bespoke framing: £135.00.

Bespoke framing for canvas prints is available to ensure the best framing choice for your piece

Remarque drawing examples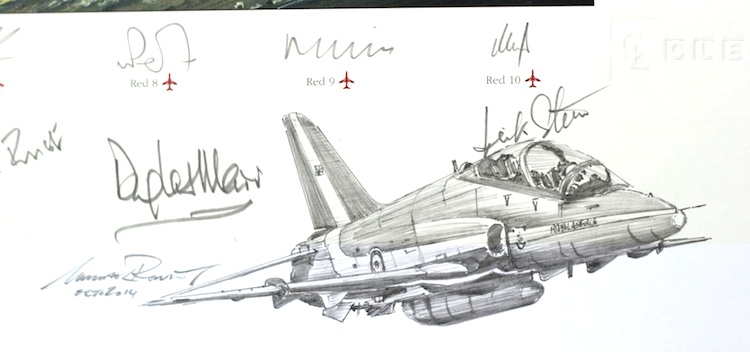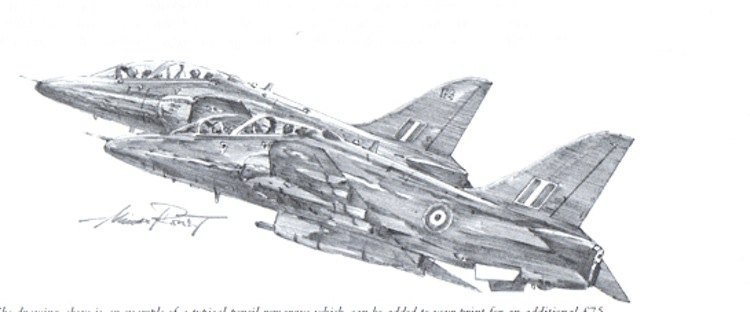 Signed and Numbered Print (10 signatures) available only from The Royal Air Forces Association. www.rafa.org.uk